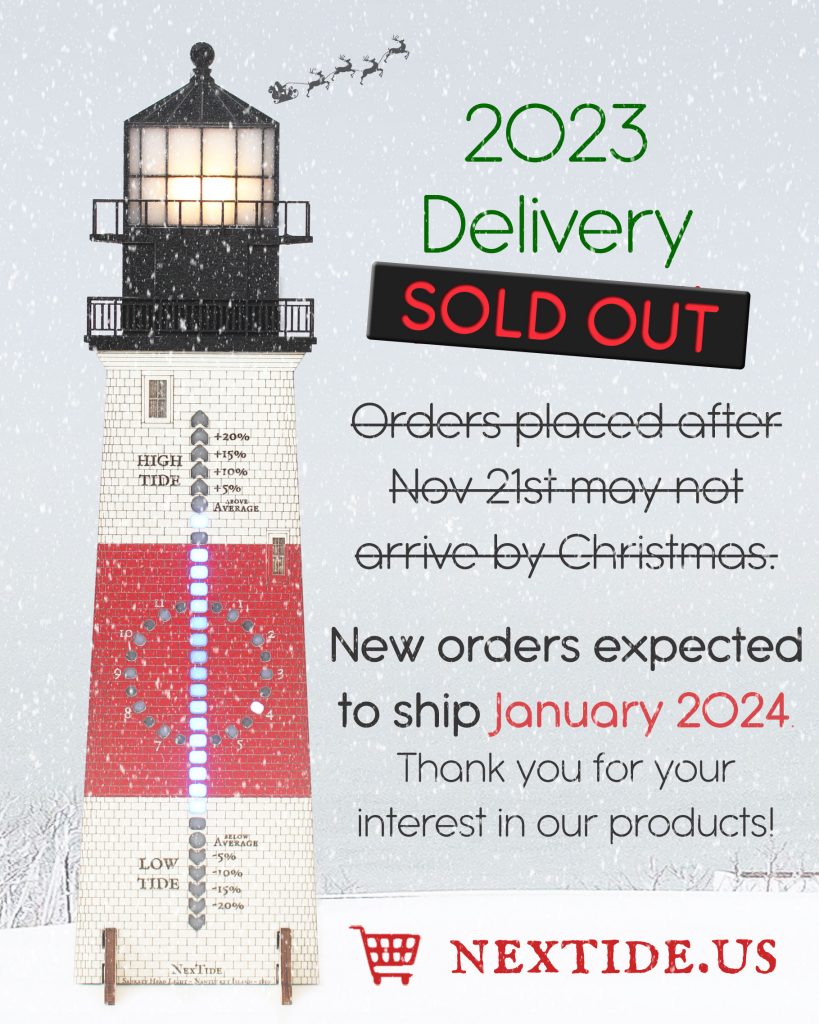 ---
---
Please Read! New orders will not ship until January 2024.  We are 5+ weeks backordered as of late November.  Thank you!
---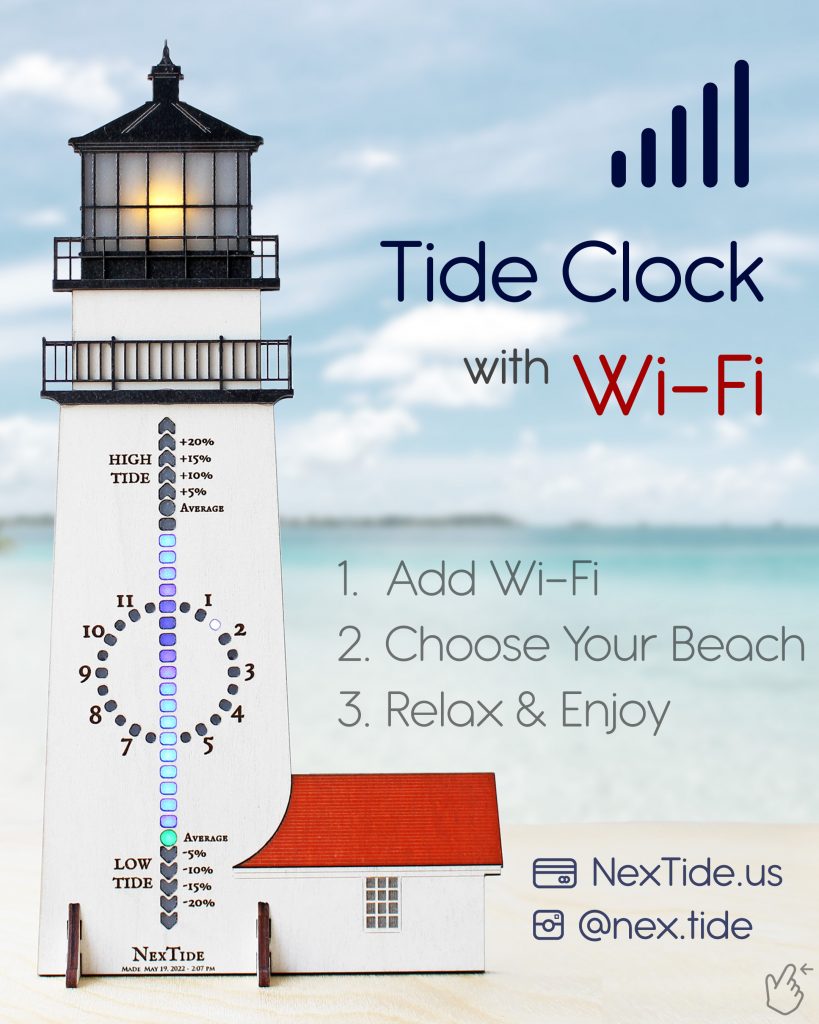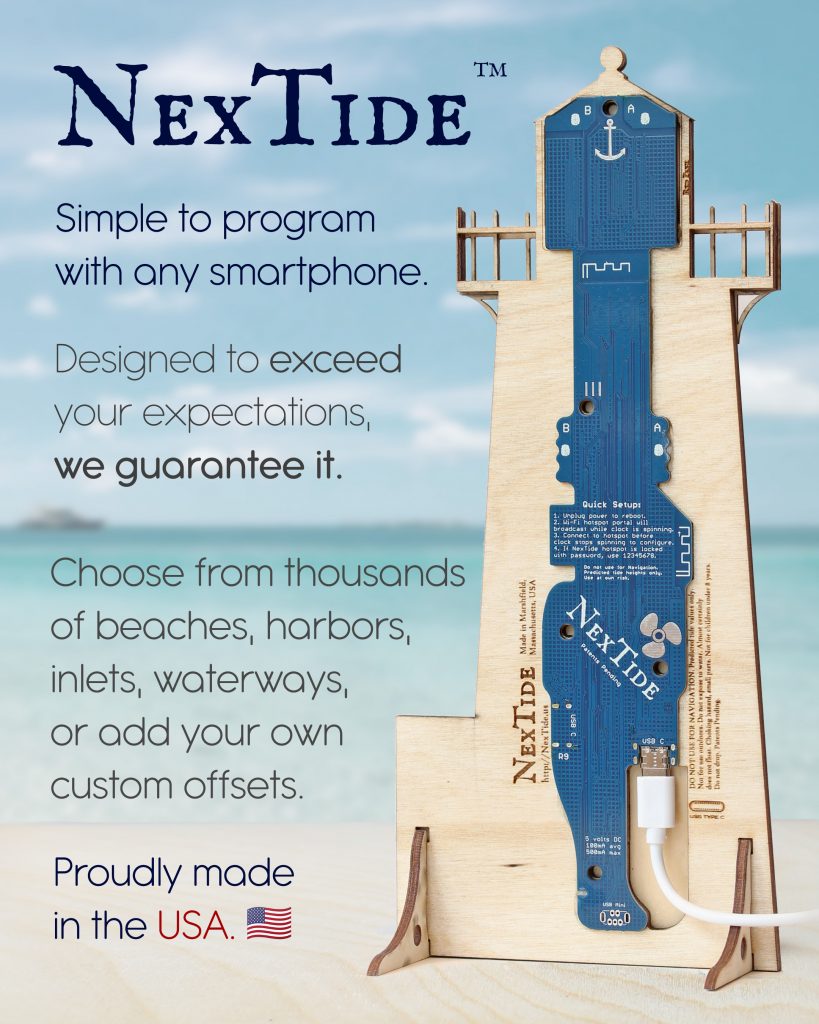 ---
What is a Wi-Fi Tide Gauge?
Traditional circular tide clocks haven't changed in decades. They have poor accuracy, and don't really paint the whole picture. We set out to solve that by creating an entirely new product that will change the way you think about tides forever, look great in your home, and generate conversations with your guests for years.
NexTide is simple to setup, configurable to your specific area, syncs with the web by itself, and just plain works. No matter where you visit the ocean, the high and low tide water level is different all the time, and our customers love checking it with just a glance. Thank you for all the feedback!
What information does a NexTide display?
the tide water level right now,
which direction the tide is going (in or out),
how high the tide water will come in next,
how low the tide water will go out next,
and of course the time of the next tide.
Will you create my local lighthouse or design by suggestion?
Possibly, depending on the shape and feasibility of what you're looking for. Use the contact us form to suggest a design or bigger size and we will add you to the list.
---
---
---
---
---
How does it work?
Our functional artwork has built-in Wi-Fi capability and turns tidal data into informative animations of color-coded lights that show you 12 hours into the future. NexTide shows you the high and low tide water levels for the day with only a glance from across the room.
No more ambiguous numbers or useless arrows to translate — tide heights are displayed using an intuitive scale of lights that you can see on your way out the door. Quickly knowing the height of the tides can be a game changer for boaters, beachgoers, fisherman, surfers, dog walkers, sea glass hunters, kayakers, swimmers, and the list goes on. NexTide also tells you when the next tide is, but we promise the height of the tide is much more interesting.
---
Wall Mount Styles 18″-50″
Note that most desktop styles can be made in larger wall mount sizes. If you don't see the size you need listed, please use the contact us form.
Click here to see wall mount sizes.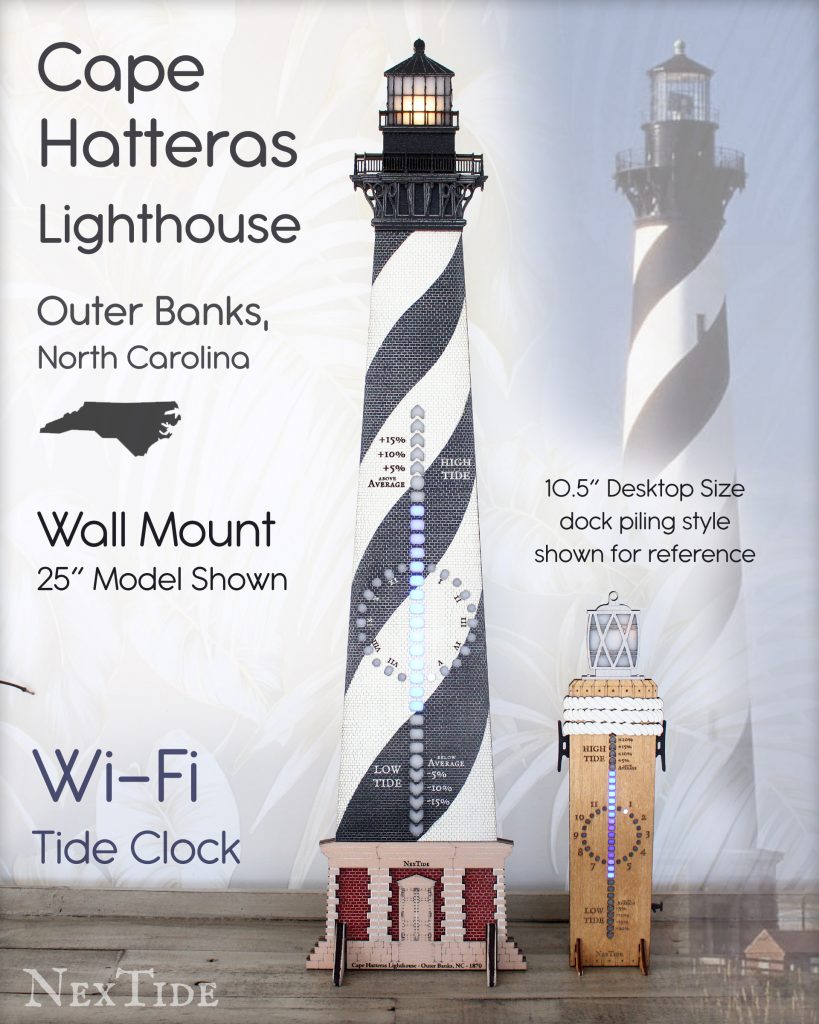 ---
Does NexTide work with Mixed Semi Diurnal Tides?
Of course it does… NexTide works with any area that has a NOAA tide station, including areas like the west coast and the gulf of Mexico where circular tide clocks are mostly useless.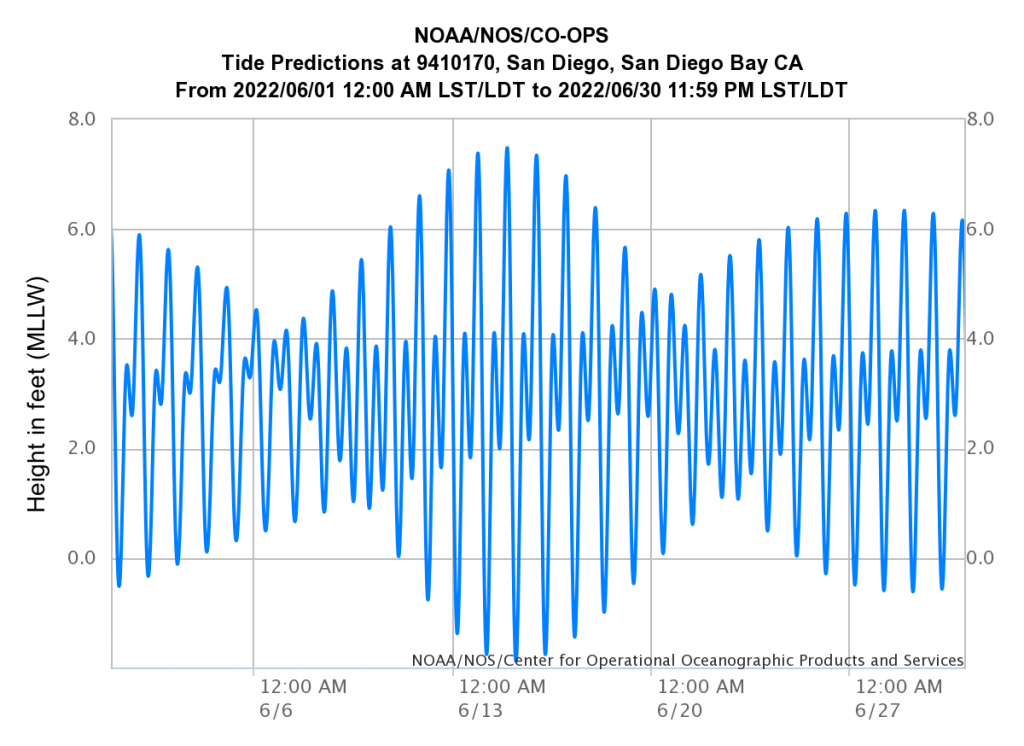 Is NexTide easy to setup?
Basically there are 3 simple steps, that's it!
Use your smartphone to connect to NexTide's WiFi hotspot (just 1 time)
Select your home WiFi network and enter WiFi password
Choose a beach or nearby harbor as your tide chart for NexTide.
Enjoy!
Are there subscription fees?
Never. Your NexTide pulls tide data directly from databases made publicly available by NOAA. No registration or account required.